Interview by Billy Amendola | Photo by David Bergman
October 2018
This is a Older Article But Still A Good Read .
The Article Can Be Found Here :
https://www.moderndrummer.com/article/october-2018-bon-jovis-tico-torres/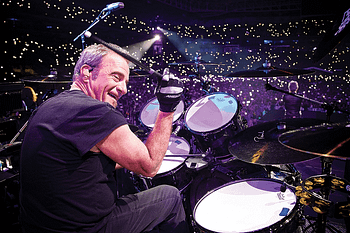 When singer Jon Bon Jovi quit his cover band to front the New Jersey originals group the Rest, most who witnessed his passion and drive knew it wouldn't take long for the charismatic frontman to put his own band together and set out to rule the music world.
Bon Jovi already had on board keyboardist David Bryan and bassist Alec John Such, veterans of the fertile New Jersey music scene. When Such told him that he knew "the baddest-ass drummer in the land," it didn't take long for Jon to convince the rock-solid drummer Tico Torres to give up his established career with the Jersey group Franke and the Knockouts—who had a top-ten hit in '81 with "Sweetheart"—to join him in his new venture. Guitarist Richie Sambora joined shortly after, and the rest is history.
To Read More & The Full Article = Click Here