This is dated 2013  Because WE Can Tour

 
Grandmothers take in Bon Jovi — their first concert
By Terry Davidson, Toronto Sun
First posted: Monday, February 18, 2013 09:26 PM EST | Updated: Monday, February 18, 2013 10:54 PM EST
article location = Click Here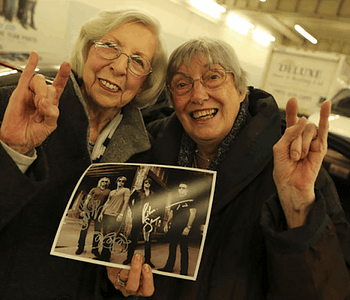 TORONTO Canada – For some, it's never too late to take in their first ear-spitting, sensory-overloading rock concert.
That's exactly what longtime pals Thelma Moore and Kay Hutton — both 84 — did Monday night when the duo hit the Air Canada Centre to see supergroup Bon Jovi perform at the Air Canada Centre.
The widowed grandmothers are childhood friends who have gone on cruises and summer getaways together. Grey-haired and bespectacled, the women thought they had done it all.
But Moore, after realizing they had only seen concerts by the likes of jazz crooners Tony Bennett and Frank Sinatra, suggested they check out a rock show.
"Kay and I were talking and I said, 'Something we haven't done is go to a rock concert, and we should go before we leave this Earth," said Moore, admitting they had felt some trepidation about going to such big, loud event and being surrounded by thousands of screaming fans.
Moore was asked how she thought she would feel after catching her first whiff of marijuana during the show — something not uncommon at rock concerts.
"I don't know. What does it smell like?"
When Moore's son, Blair, caught wind of their idea, he suggested they order tickets, buy ear plugs and go for it.
"My mother said (lead singer Jon Bon Jovi) was nice to look at, so she's going to have something in common with a lot of other women there," he said.
It was the Toronto Sun's Irene Thomaidis and Rita DeMontis who first heard of the planned night out. They used their connections to ensure the evening went smoothly – with a nice dinner and limo service.
Moore and Hutton were picked up by limousine and delivered to Toronto's Kit Kat Italian Bar and Grill where owner Al Carbone provided them with plenty of wine and a shot each of sambuka.
"I don't know what their health is like, but they must be healthy enough to do it," added Carbone.
Sammy Wong, limo driver to the stars, provided the friends with transportation.